Central apart-hotel in the center of Smolensk, Russia
Central apart-hotel in Smolensk is offering high class moderately-priced apartments to business people, tourists, and visitors in Smolensk. Each apartment offers a comfortable accommodation with kitchen, free Wi-FI and a good rest.
There are 10 comfortable apartments, fully furnished and equipped with everything necessary for living, including a kitchen, at your disposal. The interior and cleanliness of the rooms create fireside comfort that will be suitable both for travelers and for the people coming to Smolensk to solve business issues. Bed linen, towels and utensils are provided to all clients. There is free Wi-Fi for your convenience.

The apartments in Smolensk are offered for a reasonable price that is cheaper than that in the nearby hotels, while the level of service is comparable to that of semi-luxury hotels and even higher.

The apartments' location on one of the main streets of Smolensk allows their guests to forget about extra expenses for transportation because everything they might need (shops, banks, restaurants, parks and historical monuments) is situated within 5 minutes walking distance.

Bolshaya Sovetskaya Street leads to the Dnieper Embankment and Sobornaya Mountain, where Uspensky Cathedral – the pride of Smolensk citizens and a magnificent example of Baroque architecture – overlooks the city. The symbol of the city, 16th-17th century Fortress Wall, is one of the first points of interest in close proximity to the hotel.
The apartments are located in the immediate vicinity of the city museums, art gallery and the modern building of exhibition center.

The hotel's location in the quiet center and its entrance from the courtyard make the apartment hotel even more comfortable and convenient.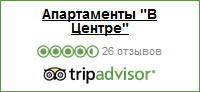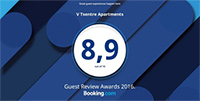 Feedback
Excellent variant! Nearby there is everything, actually, it is the downtown and what would be better?! The parking is directly about an entrance. The apartment is clear, linen is normal; all things are intact and efficient. You can prepare your meal there. It is convenient to take place. But I didn't like the house entrance extremely. It is the gas chamber where the axe can be hung up in cigarette smoke.
2017-05-16 22:30:00
Alexey, Russia
Location is fantastic: all museums, cafe, parks are "round the corner", a beautiful view from a window on pedestrian Lenin Street! Apartment is very clean, everything is well thought-out and attractively designed. In total with the beautiful city it is amazing! we were there with 3 children and there was enough place for everybody!
2017-05-11 16:34:00
Anastasia, Russia
Excellent location in the downtown and very convenient planning of the apartment for a journey company.
2017-05-11 16:00:00
Elena, Russia
It is a fantastic variant: a convenient location, purely and comfortably. We were there with 2-year-old child, everything is excellent.
2017-05-10 09:36:00
Yana, Russia
It is the excellent place: marvelous room with all necessity (a kitchen, a microwave, a teapot, tableware, a cooker, TV, a hair dryer). I was excited by the Bed on the second tier and high ceilings, there is a lot of light, the room is spacious, wide window sills overlooking a pedestrian Lenin street. A ladder on the second tier quite craggy. But below there is a sofa, if someone doesn't want to climb upward.
2017-05-02 17:09:00
Anna, Russia